Getting Started: Your Business Profile on Social Media
Getting your business profile set up on a social media site takes time, energy and effort. Once you decide where you are going to start, you want to make sure that you are putting your best foot forward for your organization. It is also important to make sure you are doing what is right for your brand. Starting with a strongly branded business page is vitally important.
The first question you may be asking is what is a business page. Your business page is a one-stop shop for customers or members who are searching for you. Business pages include pages for small businesses, and nonprofits. It provides information about who you are, where to find you, contact information, visual content, event information, updates and much more. It has different functions from your personal page.
One thing to note. In some social media networks, like Facebook, a business page is directly linked to a personal page. This means that your business will not have a separate log in. While the two accounts are connected, they remain separate to the outside world. You will interact with Facebook differently on each type of page, personal or business. People who interact with your business page will not be able to see your personal page. You can also then add other people as administrators to the business page.
In creating your business page, the first thing to do is choose type of business.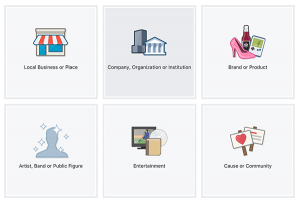 These are the options for Facebook. Choose what fits best for your organization. Each page has slightly different features. Local Business is best for an organization that has a physical store. It gives you options to have a map and check in's, as well as receive reviews. Choosing Company, Organization or Institution is best if people are not visiting your physical location often or if you have multiple locations. The cause or community option does not give you an option for a sub category, so I would suggest trying to stay away from this. A church could be listed under a local business or an organization. A nonprofit should be an organization because they have special options for nonprofits. 
The next step then requires you to fill in some boxes concerning the type of business or organization you are, your address and other information. Follow the steps filling in as much information as you can. (You can always go back later and add the information if you do not have it ready)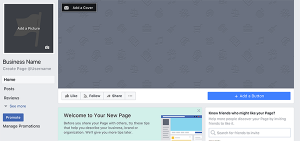 You will also need to enter a profile image and a cover image. These images should be brand right and fit your business. They also will need to fit the space given. I have found a great resource on Sproutsocial that lists up to date image sizes. 
Profile photos need to be a quick understanding of your brand, often your logo. Unlike your personal profile, it should stay the same. Another important thing to note is that your profile image is a square in the top left and circle in the newsfeed and timeline. This means that you may need to change the format of your logo or only choose part of your logo to fit into the profile image. Also, be careful of having too many words, as the profile image can get small in the newsfeed.
Cover images also tell the story of your brand. Because it is only on your page and not in newsfeeds, you have more space and it can change more often. Facebook has also rolled out an option to have a short video (20-90 seconds) in the cover image area. I recommend changing them out every 1-3 months. They can match a campaign you are running or the changing of the seasons.

Then, you will need to choose a call to action button. This is the button that is under the cover image and is easy for people to take a quick action. Some of the options are call now, contact us, send message, shop now and donate (for nonprofits).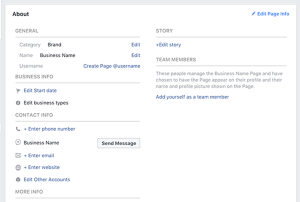 Next, you will want to finish filling out the about section. You will need to make sure you fill in your website, a description (both short and long), hours, location, etc. Some of this information you filled in before, but make sure you fill out everything and that it is brand right. One of the worst things you can do as a business page is to leave your page half finished. It tells people that you are not serious about your business or organization.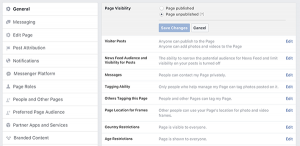 Finally, you will want to edit your page settings. There are options to choose if you want reviews, how people can contact your page, how you receive notifications and much more. This is also where you will choose to publish your page or not. If you want to wait to publish your page until you have all the information, there is an option to leave your page unpublished. Just don't forget to publish your page before you start looking for followers.
I recommend back dating a few posts in Facebook to make your page look robust before you start adding followers. It also helps your profile look finished and it gives people something to look at when they come to your page. 
Remember, more and more people are using social media to find out about businesses and nonprofits, make sure you are putting your best image forward.
If you have any questions, please do not hesitate to reach out to me at Lisa@LisaSchickertSmith.com